August 2014 House Price Index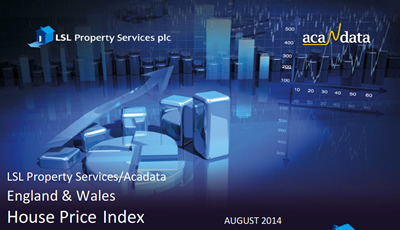 Mind the gap: London and South East skew average house prices by record £89,000
· Overall average house price now £274,302 – but only £185,496 omitting London and the South East
· Represents the biggest price disparity since 1995 due to cooling house prices in regions
· Slowdown outside of London and the South East as annual rise drops to 4.3%
· Contrasts with average house price growth of 10.7% in past year across all of England & Wales
Overview:
David Newnes, Director of Your Move estate agents, comments: "A game of two halves is being played out in the UK property market. In terms of average house price growth, a gap has developed between the South East corner and the rest of the country. If we exclude the key players of London and the South East from the game, a whole different playing field is revealed.
"House prices across the remaining parts of England and Wales have only increased 4.3% in the past year, or less than half of the overall measure of 10.7% when we include London and the South East. In absolute terms the difference would seem to add £88,806 to the average price tag for a home across England and Wales – the highest absolute difference since 1995.
Regional overview:
David Newnes continues: "There is also much more to be said beyond the headlines for London. The annual rate of growth in London house prices is the fastest witnessed since 2000. Most recently we're seeing asking prices in the capital start to be reined in, which will apply the brakes on annual house price inflation as the market steadies.
"What's happening in London may be eye-catching, but it is akin to looking through a kaleidoscope – and skews any view of the current total housing landscape. Peeling back the regional layers gives a much more informed view of the core reality of the current housing market. With evidence of London starting to cool off after strong growth earlier in the year, it is critical that the underlying momentum that has stimulated much needed increased volume in the rest of the market is allowed freedom to keep moving, whilst any price rises are kept steady and under control."