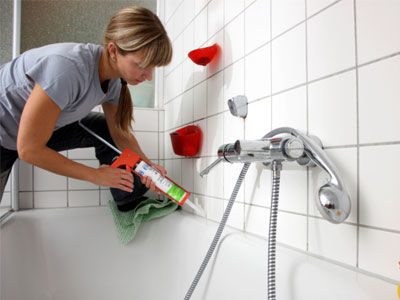 Kitchens and bathrooms are two things that can really affect whether a tenant chooses your property, so you need to make sure they always look clean and modern. And if you're not careful, updating them can easily end up as one of the biggest periodical costs you'll incur over the lifetime of your Buy to Let, so we've got some advice on how to keep them looking good without making too much of a dent in your profits.
How often you need to update your fixtures and the amount you have to spend – on both materials and labour – depends on how well the job was done in the first place. A lot of investors try to keep costs as low as possible when they're doing the initial refurbishment, but if you cut back too much on the quality of your suites and units, you're likely to find it's a false economy. You're far better to pay a little more for a bathroom suite that will last a good ten years, rather than pay less for one that's likely to start looking very shabby and need replacing by year five. Replacing an entire bathroom is not only expensive, it's also very disruptive for your tenants and could even mean the property lying empty while the work's happening, so it's not something you want to have to do more than once or twice over the time you own your Buy to Let.
The contractors you use for your refurb will probably have a lot of experience in how long various different fixtures wear and last, so ask them for recommendations. You don't need to go for the most expensive option – remember, you want something simple – but if you invest in a bathroom suite that is going to last, it means you only need to change the furniture (taps, plugholes, etc.) and give it a really good clean and you should constantly have something that looks almost new. And don't choose showers that have their working parts hidden behind the wall or tiles; pick a model that leaves them exposed, to make maintenance and repairs a lot easier and less costly.
Kitchens are similar. Make sure that the basic units (the carcasses of your cupboards, the part you don't really see) are really hard wearing, then you can simply refit new cupboard doors and worktops as necessary. Choose a worktop that's not going to show up marks and scratches – we find matt laminate slate or granite effect is good – and invest in some decent hinges for your cupboard doors. Wonky doors and ones that are starting to hang off will make the kitchen look more tired than it really is, so ask your handyman to tighten the screws every now and then, or even replace the hinges, and that will give the cupboards and the whole kitchen a new lease of life.
Needless to say, always make sure you have properly-qualified contractors fitting your fixtures, i.e. check that they are accredited and/or belong to the relevant trade body. Your carpenter should belong to the Guild of Master Craftsmen or Institute of Carpenters, your plumber should be a member of the Association of Plumbing and Heating Contractors (APHC) and your builder should belong to the Federation of Master Builders (FMB). And remember that tenants tend to take more care if you give them something nice to look after, so make sure your cleaner keeps on top of the oven and hob and wipes all the units down regularly. If you carry out on-going maintenance to a good standard, that in itself will extend the life of your kitchens and bathrooms.