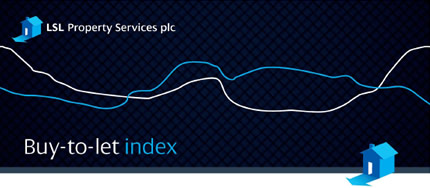 BUY-TO-LET LENDING TAKES RENT RISES TO FOUR YEAR LOW
• Rents rise at slowest annual pace since January 2010 – up just 0.9% in twelve months to March
• Average rent across England and Wales now stands at £741 per month, after 0.2% monthly fall
• Proportion of all tenants behind on rent stands at 7.8%, down from 8.5% in March last year
• Rising house prices increase landlords' annual returns to 12% – or almost £20,000 per year
Overview
Rent rises across England and Wales have slowed to their lowest annual rate in over four years, according to the latest Buy-to-Let Index from LSL Property Services plc, which owns national chain Your Move.
As of March, rents across England and Wales are now just 0.9% higher than twelve months ago.
Rents have not increased as slowly since they grew by 0.4% in the twelve months ending January 2010, making the latest annual rent rises the slowest for over four years.
In absolute terms this means the average rent in England and Wales is only £6 higher than a year ago, currently standing at £741 per month compared to £735 in March 2013. On a monthly basis, rents fell by 0.2% between February and March. This leaves rents in England and Wales approximately £1 lower than in February.
Rents by region
Rents in five out of ten regions are higher than in March 2013, led by the South West with 5.2% annual rent rises.
This is followed by 2.3% annual growth in the North West and 1.4% annual rent rises in the South East.
Of the five regions where rents are now lower than a year ago, the East of England has seen the sharpest fall, down by 3.6% over the course of twelve months. Wales has seen rents fall 2.0% in the past twelve months, while rents in the West Midlands are 1.2% lower than a year ago.
Commentary on the Index:
David Newnes, Director of estate agents Your Move, part of LSL Property Services, comments: "Mortgage lending is recovering steadily – and the impact is becoming clear. This year is seeing access improve across all areas of the property market, and that now includes private renting.
"A flow of investment from landlords has increased supply of homes to let, supported by historic low mortgage rates and significant growth in the number of buy-to-let loans. At the same time more first time buyers are starting to balance the many thousands of new tenants entering the rental market.
And this is slowing demand a little. The result is a private rented sector where supply and demand are more aligned than for many years. More mortgage lending is good for tenants too."