Scotland House Price Index - December 2013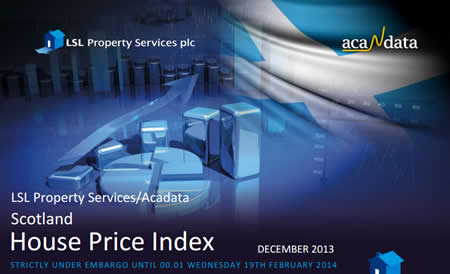 The December edition of the Scotland House Price Index is published today by LSL Property Services/Acadata. Highlights from the index are:
2013 has been a year of recovery in Scotland's housing market.
Not only have sales volumes expanded by a significant amount, but we have also seen an increase in the average house price of £5,131, or 3.6%, over the year.
This is the highest annual rate of price increase since October 2010, when house prices were on the rebound from the 2008/2009 credit squeeze.
The average cost of a home now stands at £146,696 which is £6,300, or 4.5%, above the low point of £140,396 experienced in April 2009 during the credit crisis.
Scotland is not alone in experiencing a recovery in house prices during 2013. All ten regions of England & Wales have also seen a positive movement in average prices over the year. However, at 3.6%, Scotland has the third highest house price growth of all regions in Great Britain, with only the South East (3.8%) and Greater London (10.6%) seeing prices rise at a faster rate.