September 2014 Scottish House Price Index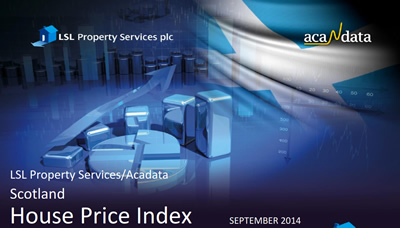 HOME SALES RECOVER IN SEPTEMBER, BUT PRICES SLIP
·Annual sales growth jumps to 15% in September as vote ends independence uncertainty
·Average Scottish house prices fell 0.4% or £587 over the month, slowing annual change to just 5.1%
·Prices drop at the top end of the market in Edinburgh and Aberdeenshire
Commentary:
Christine Campbell, Regional Managing Director of Your Move, comments:"Following almost a year of fair winds and steadfast price rises, this is the second month in succession to muddy the waters, with average property values in Scotland falling a further 0.4% in September. Two of the most expensive areas of the country saw the tide turn, with prices in Edinburgh dropping 1.3% during September, and Aberdeenshire seeing a slump of 1.2% over the month – reflecting the ripples in evidence in prime central areas of London, as the top tier of the housing market experiences the keenest downturn.
"While Scottish house prices have sailed up nearly £8,000 in the last twelve months overall, the rate of annual growth appears to have changed tack, easing back to 5.1% in September from 5.8% in August. Since June, the monthly pace of house price growth has ebbed away, as doubt raged over the future of Scotland within the United Kingdom, and touched the brakes on activity in the housing market.
"However, these shifts we're seeing on the surface haven't uprooted the solid foundations of the recovery, with average house prices across 81% of Scotland standing taller than a year previously."