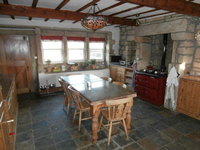 When selling a property, homeowners can often find it tricky to identify the qualities which make buyers sit up and take notice. So, as well as preparing for the selling process itself, it is a good idea to do a little research and figure out exactly what your target market is looking for and, more importantly, what low-cost changes can be made to your property which could lift both interest and the asking price.
The UK government is currently in the process of implementing a policy which, should targets be met successfully, will see potentially hundreds of thousands of new homes built in the country during the next few years. Although this is intended to target the issue of housing shortages in the UK, it also has the adverse effect of introducing a higher level of competition in the housing market – in other words, those looking to sell will have to compete for interested buyers with large scale developers offering attractive financial incentives on new builds. Fortunately, there are a number of things you can do to build an attractive profile for your property, including:
Element-proofing the Property – At the beginning of 2014, the widespread media coverage of the flooding affecting widespread areas in the south of England caused many homeowners to assess the numerous dangers posed by the elements to their properties. If you, when selling your home, can highlight various ways in which you have protected your home from the risk of flood damage, this will certainly make your property attractive to would-be buyers, especially if your home lies near a body of water or within an area where flooding is a risk. Installing non-returnable valves throughout the property, for example, is a good way of ensuring that rising water is blocked from backing up the pipes – although this can be costly, it is a strong selling point especially in an older home. A cheaper, but still effective, way to do this is by clearing drains and gutters and purchasing temporary airbrick and vent covers which, should flooding occur, can be installed quickly to minimalize any potential damage.
Researching the Local Area
Part of identifying your target market is by stepping back and thinking about what selling points can be used to draw in specific buyers. If you own a larger home but wish to downsize, for example, researching local schools and discovering which ones receive good Ofsted reports is an excellent way of piquing the interest of young families. Another good way to attract an active family is by having a good knowledge of local cheap or free outdoor attractions, such as national parks or World Heritage sites. Finally, if you choose to host an open house, inviting neighbours or prominent members of the community to meet potential buyers is an excellent way of promoting the local area and allowing interests to be discussed – as long as you and your neighbours have a good relationship, of course! Remember that any issues or disputes with neighbours legally have to be declared in the Seller's Property Information Form, so presenting a good relationship with the neighbours of surrounding properties can be a great way to sell your home fast.
Presentation, presentation, presentation!
Contrary to popular belief, it is not location but presentation which can be the ultimate selling point for your property. Proximity to local amenities is of course an ideal for some, but this means nothing if a prospective buyer cannot see themselves or their possessions fitting comfortably into your property. According to a study published by the BMO Financial Group in 2013, 80 per cent of prospective buyers know whether a home is "right for them" as soon as they step through the front door. Therefore, first impressions truly do count! A huge part of making a good first impression is by presenting your property as both spacious and comfortable – and the best way to do this is by ensuring your colour scheme is positive. This may seem strange, but numerous studies have found the impact colour can have upon mood; ideally, buyers should be in a positive mood when viewing your property, so a neutral colour scheme brightened up by flowers, bright paintings or throws can create an aura conducive to strong selling. Just don't clutter your property or assault the senses with a colour overload and this technique should work like a dream!
Guest post by Anne Foy