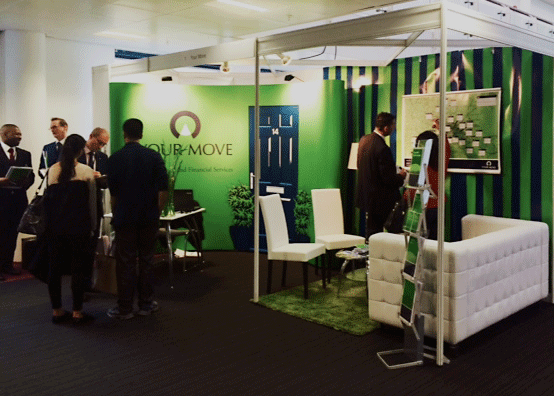 Your Move recently attended the First Time Buyer show, our time there was spent in the company of literally hundreds of First Time Buyers at the Business Design Centre in Islington.
They all had one thing in common – they were eager for advice and help in their search for that first step onto the property ladder.
We had a team of 8 advisers who were all in constant demand throughout the day (note to self – take more advisers to the next show to reduce the queues!) .
In between hosting and watching seminars and helping lots of people I was lucky enough to speak to the genuinely lovely Nicki Chapman (TV celebrity on shows such as Wanted Down Under and Escape to the Country) and the property expert / analyst Kate Faulkner who is often a source of ideas and inspiration to me on educating consumers on what's the right thing to do and how to save money!
It occurred to me when we were packing up at the end of the day that as great as it was, for some it might be a case of information overload – this got me thinking about what were the 5 top tips from the day ?
1. Research your own credit file
•Check to see what is on there and you CAN change it if it is wrong.
•Avoid applying for credit in the weeks/months running up to applying for your first mortgage
•Think very carefully (a bit sensitive this one!) about opening joint accounts - your partner's credit history may not be as 'clean' as your own
•If you don't have any credit this isn't actually a good thing – lenders like to see how you manage debt. Using a credit card and clearing the balance every month is always a good idea
•The 3 main agencies are Experian , Equifax and Callcredit. Noddle is a good place to start as it is genuinely free!
2. Get advice from a broker
•Check what you can afford to borrow before you start looking– it sounds obvious but lots of buyers don't do this
•Put yourself in a strong position if you are in competition for your dream home – sellers want to hear you have finance sorted out in principle
•Make sure they offer a wide choice of lenders in the market
•Check that they are qualified (they should hold qualifications such as Certificate in Mortgage Advice and Practice (CeMAP) of Financial Planning Certificate (FPC)
•Look at their track record – have they been recognised for service and advice excellence?
•Do NOT pay them any fees until you are ready to apply for your mortgage – the best brokers (like most professionals) will charge but not until you are ready to proceed
3. Research the market
•You may have your heart set on a particular location or even street but don't discount other options
•Look at what has sold recently in the area – Zoopla is great for establishing what the property came onto the market for and when it came on (as well as showing any price reductions)
•Weigh up the cost of moving a little further away from your ideal area – commute costs/times vs the extra accommodation and space it might give you
•Look for areas where investment is being made in the infrastructure (eg new shops , transport links , large employers moving in) – this may help to increase the value over time of your first home
•Make sure you speak to the local estate agents – they can be a great source of information on the area and what is desirable and what isn't (and why!)
4. There are schemes to help First Time Buyers
•Shared ownership (a combination of owning a share and renting the remaining share) can be a great way to get on the property ladder – check out SharetoBuy.com
•Help to Buy can help you with an interest free loan from the government on new properties for the first 5 years and reduce your mortgage interest payments
•You can get help buying 'older' properties with the Help to Buy 2 scheme as well
•Listening to Nicki Chapman interview 2 first time buyers was uplifting – don't underestimate the sheer joy of owning your own home – their advice was 'go for it'
•A good broker will be aware of all the options – use their experience to help decide what is the best route for you
5. Be disciplined!
•Before you start looking for your first home fill in a budget planner (a good broker can help you with this) to help yourself understand your future outgoings
•Set yourself a maximum amount that you are comfortable paying each month and then stick to it. This will dictate what the maximum amount you should borrow. Not the other way round!
•Consider fixing your payments for as long as possible to help budget for longer – interest rates are likely to rise in the near future so don't get caught out
•Make sure you leave yourself enough money left over to save each month – this will help you with maintenance or unexpected bills
Hopefully this will help you on your way to owning your first home !