As we head into 2015, there is much being discussed about what will happen to the Buy to Let investment market. Many of the stories about Buy to Let suggest a surge in property prices as retirees raid their pension pots for the first time to invest in residential property. Other property experts suggest as affordability continues to be difficult for those trying to get on the housing ladder, this will hold prices back and we may see only small property prices this year.
To help keep our landlords up to speed with what's actually happening to property prices and rents, we invest heavily in monitoring the market every month. This helps us to better understand the latest trends and be able to report to you exactly what's happening in the UK but more importantly, in your local area.
Our latest Buy to Let index shows average rents over the last five years have grown at approximately 3% each year. This is good news for landlords as it means your rental income is keeping up with the cost of living, which overtime, rises at around 3% per year**.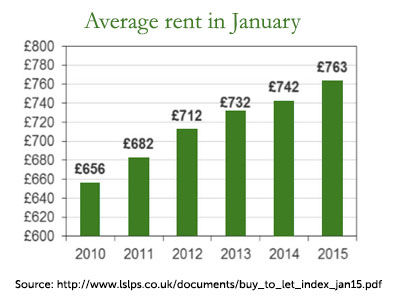 How well are rental yields performing?
At a regional level, rents vary from £560 per month in Wales through to £1,175 per month in London and because they often change with house prices, so do the returns given. The North West offers the best gross income returns with the average yield from rent of £583 per month giving a 7% annual return. London in contrast delivers a lower 4.2% yield.
Our latest data shows Northern regions tend to deliver income returns above 6%, while the Midlands, South and Wales give a more average 5% return and areas such as London are 4%.
What this means for investors is properties tend to deliver either high income returns but lower capital growth or higher returns from capital growth and income which, in the main, just covers the cost of running a rental property. So London may deliver lower rental income than the North West, but prices tend to rise more and vice versa.
The map below shows how average rental income performs by region and this is useful to contrast and compare against how your own properties are performing.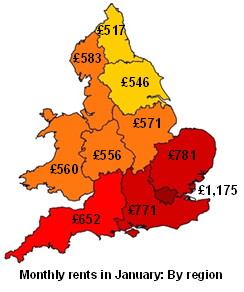 So far this year, rents are higher in almost every region in January 2015 than they were in January 2014. In the East of England rents are up the most, by 8.8%, followed by London +4.8% and the East Midlands +3.8%. Two regions did see falls though year on year: the North East -0.8% and the South West -1.4%.
Returns including property price changes
Buy to Let returns though are based on both what you earn from income and from the growth in the property's value. The chart below shows how since the economy has recovered, property price growth and net income, on average, has delivered 11.7% gross Buy to Let annual returns in the twelve months to January 2015. This trend has been fairly consistent since the summer of 2014.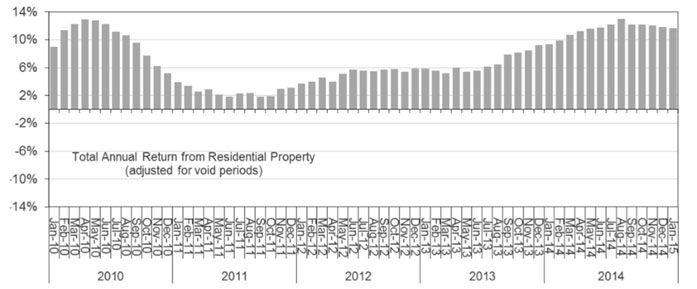 Adrian Gill, Director of Estate Agent Your Move comments: "In the wider property market, house price growth has moderated slightly, and we're seeing a complementary cooling in landlords' total annual returns. But fundamental rental yields have remained stable, rippling very gently above the 5% mark. Moreover, most landlords are shrewd long term property investors who will choose their time to sell to maximise their capital gain."
For more help and advice on the value of your existing rental properties, or if you are looking to invest in more property, do call 0845 450 5507*, email landlords@YourMove.co.uk or visit your local Your Move branch.
****Source: http://www.bankofengland.co.uk/education/Pages/resources/inflationtools/calculator/flash/default.aspx
**Source: http://www.inflation.eu/inflation-rates/great-britain/historic-inflation/cpi-inflation-great-britain.aspx and the following based on average inflation 2005 to 2014.