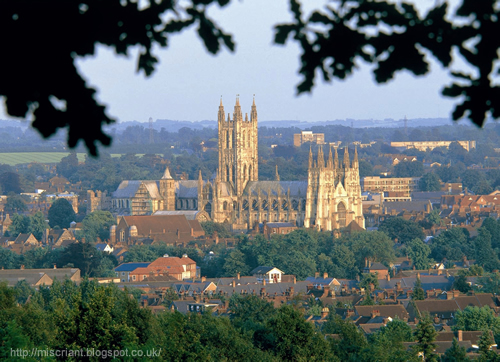 Are you considering a move to the South East of England? If so, Canterbury is a great place to start looking. Oft considered the spiritual centre of the South East, Canterbury is ideally located for those wanting to explore further afield or those wanting to enjoy all that Canterbury has to offer. And what is that exactly? Read on to find out.
History
No "Why move to Canterbury" article would be complete without a little history lesson. After all, it effects just about everything in the city!
Romans built Canterbury in 1AD, introducing gridded streets, a theatre, public baths and city walls. The Roman's significant role in the history of the oven also meant that they brought their advanced cooking techniques, leading to Canterbury's prolific pottery trade.
Later, Canterbury Cathedral was founded (597) and much later, Archbishop Thomas Becket was murdered and consequentlycanonised there (1170), making Canterbury one of the most notable cities for Christian pilgrimage. This pilgrimage became legend in Chaucer's 14th-century classic The Canterbury Tales, and the city's literary heritage was firmly secured when Christopher Marlowe (Shakespeare's biggest influence) was born there in the 16th century.
Today, much of this history can be observed throughout the city. There's the Marlowe Theatre, for starters, and Canterbury's skyline is still dominated by the Cathedral. Then there's the ancient ruins of St Augustine's Abbey, St Martin's Church and Canterbury Castle – serving as reminders of the religious significance of this part of the world.
The great thing about Canterbury is how all of this rich heritage sits side-by-side with the qualities of a modern cosmopolitan city. For example, a medieval witch ducking stool can be observed on the River Stour, just near ASK, whilst the local Waterstones is home to the ruins of Roman baths, which can be found in the basement. These kind of ancient curios are all over Canterbury, you just need to know where to look.
Location
In terms of location, Canterbury ticks a lot of boxes. Lying between the city and the towns of Faversham, Whitstable and Herne Bayis the ancient forest of Blean- one of the largest areas of woodland in England at over 11 square miles. It's also home to a druid woodland sculpture park and a 13th century manor house.
If beaches are more to your liking, the upmarket seaside town of Whitstable is just down the road and actually sits in the City of Canterbury borough. Whitstable has a fascinating maritime heritage. It hosts an oyster festival every year and many of the local restaurants serve locally caught seafood. It's great place to spend a sunny afternoon if you enjoy quirky craft shops and real fish and chips.Bear in mind that the beach is pebbly, so if you prefer sand simply follow the coastline to the award winning beaches of Broadstairs.
Aside from the landscape, and for those keen to maintain contact with the Big Smoke, you can get from Canterbury to the centre of London in less than an hour thanks to the new high-speed railway. Overall, an excellently located city with state of the art connections.
Shopping & Nightlife
If the history and location of this place aren't enough to make you want to move here, the shopping and nightlife options will.
Picturesque cobbled streets are home to delis, artisanal bakeries, boutique shops and art galleries – great for those who prefer independent businesses. Discover hand-made crafts at Siesta and local beer at the Old Buttermarket, or head over to the Moat Tea Rooms for an old fashioned afternoon tea.
If all of that sounds a little too quaint for your tastes, the ultra-modern Whitefriars Quarteris probably more up your street. Featuring all of the usual high street stores, Whitefriars Quarter was built in 2004 to cater to Canterbury's burgeoning need for shopping space. These days, it's the largest shopping centre in East Kent and ideal for those who prefer Topshop to a charity shop.
In terms of nightlife, Canterbury is great if you enjoy culture and an atmospheric drinking hole. There are plenty of highly rated pubs and bars that regularly host gig nights, cabarets and poetry slams. However, whilst there are a number of clubs, Canterbury is quieter than one would expect of a city. This will suit some people down to the ground, but if you're a party-hard type, you might find Canterbury a little sleepy.
Schools
The city and surrounding areas are home to four universities, eight secondary schools and thirty primary schools.
Due to the number of universities, Canterbury is often bustling with students, giving it a very lively and youthful atmosphere. You can checkout Oftsted reports on local schools but generally speaking, it is much like the rest of the UK in that most are highly regarded, with a few problem schools and a few exceptional ones.
Property
Since the high-speed railway opened in 2009, Canterbury and its surrounding villages have been attracting property buyers who want to commute to London. With its abundance of period property and all of the above, it's a very popular destination for home buyers.
What's more, prices are distinctly cheaper than the other cathedral cities of Oxford and Cambridge. If you aren't fussed about a central location, it's also worth checking out the villages of Bridge, Bishopsbourne, Barham, ElhamWingham, Littlebourne and Wickhambreaux.
Do you live in Canterbury or are you considering moving there? Share your stories of the city below.