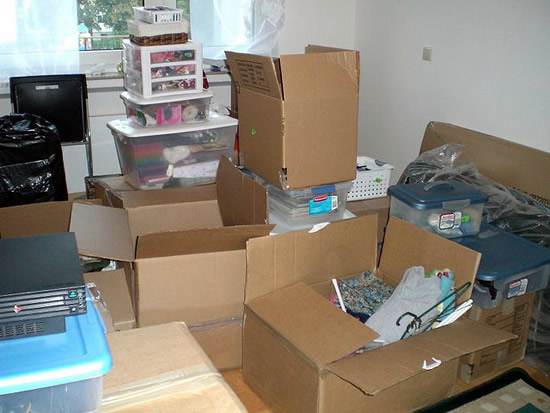 Moving is stressful enough without worrying about your valuables surviving the journey. Whether you're using a removal service or going it alone, you're going to need our 5 step plan to protect your valuables during transit.
Start in advance
It's not just the move that can cause damage, that antique crystal vase could slip right through your hands during packing if you're rushed. With your moving day fast approaching, you should take your time a few weeks in advance to pack a few boxes per night. You'll find that this will also help you transition from one place to another with a steady no-hassle move.
Decide on which room to pack first and use this place to store boxes away ready for your moving day.
Wrapping
Each piece should be wrapped in at least 2 layers of bubble wrap. Although you should handle each possession with care, try to keep the bubble wrap quite tight as this adds extra protection. If your bubble wrap is not tight enough, your property could become loose and prone to damage. Keep it tight and don't be afraid to be liberal with the sticky tape.
Often people use small towels or plastic bags to wrap their goods, but this is simply not good enough. Nothing beats the protection of bubble wrapping your property.
Boxing
Choosing the correct moving boxes is of high importance. Reusing boxes can be risky as they may have become tattered during previous moves. If they are crumpled or damp, they won't offer the same protection and may be crushed under the weight of other boxes.
You can buy high quality double and triple corrugated boxes online for maximum protection. Look for the sturdiest option for materials such as glass, crystal and china.
Take into consideration the size of the piece you are packing. You'll need to eliminate space for the goods to move around, so don't put small goods in large boxes. For example, when packing plates, wrap them in bubble wrap and lay them vertically on top of one another in a shallow box. The less space above them, the less they will move around.
Always ensure that heavy items are not put in the same box as lightweight valuables, this is a recipe for disaster! Even with box dividers you're risking a hefty crash in the back of your removal van by packing mixed weight items.
Filling
If you just can't seem to find a smaller box, or your goods are an odd shape and don't quite make a snug fit, you should fill the gaps to cut down on dangerous movement.
There are plenty of materials you can use to stuff the gaps in your box. Those plastic bags that you may have been tempted to wrap your goods with can be used to secure your property once inside the box. Scrunch each bag into a tight ball and put them into the space between your box walls and property. You can also use newspaper and magazines in the same way.
Packing peanuts are designed specifically for this purpose if you don't have the time to screw up paper or plastic bags. They come in a variety of materials, from polystyrene to the more eco-friendly corn-based shock absorbers. As they are so lightweight, they won't add any extra hassle to your move. If you're running out of time, these may be a more suitable option.
Box dividers may not fill the gaps, but if you're putting multiple fragile goods into one box they will stop the goods from colliding with each other during transit.
Label your boxes
Don't forget to clearly label each box. It's a simple task that many people overlook and suffer the consequences. We'd like to think that a removal service or friends and family helping on the day will take good care when unloading our packaged goods - this is not always the case. Accidents happen and when we start to lose momentum and get tired, we often start to get sloppy with the way we handle things.
Don't risk heavy-handed mishaps when you're taking your possessions from one property to another. Let it be known to anyone handling your boxes which ones need extra care.
The trick of a successful move is all in the planning, so take heed of our 5 step plan and move your goods with ease. Don't put a dampener on your exciting new move by taking risks with your packing. With the right know-how and a little bit of patience, you'll be able to move swiftly and begin to make your new house a home.
Sioban Clarke writes for Box Shack, suppliers of durable, industry grade moving boxes to protect your precious possessions during transit.