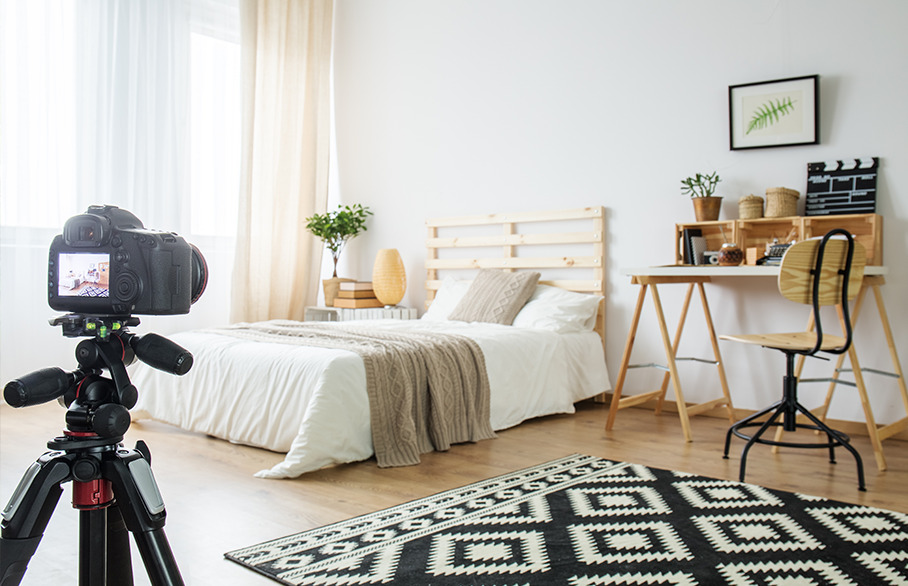 When selling your property, you need to put yourself in the position of potential buyers. Any potential buyer will try and imagine what it would be like to live in your property. With immaculate presentation, you'll be able to find the right buyer swifter.
Professional photography can be key and, compared to less attractive photos, result in 93% more viewing enquiries as a result. (*) So preparing your property for photography is well worth your time.
First impressions matter, and poor photography or bad staging is all it can take to make a potential buyer move on to the next listing.
An unorganised and cluttered property can make your home feel cramped and less inviting than you know it is. This translates into photography, virtual tours, and in-person viewings.
Reduce clutter
While keepsakes and nonessential items can add character to your property, to a potential buyer could just seem like clutter. Clutter makes your property seem overcrowded, and you want your property to appear spacious and airy.
Use it or lose it. Ask yourself what functionality your items are contributing to each room, when you last used them and when you will next use them.
If you don't have a good answer to these questions, you most likely do not need it, and it won't be a positive contribution to a potential buyer's first impressions.
Nonessential items you want to keep should be stored away in baskets or cupboards and out of sight for photos or viewings.
You want to present your property as lived-in but also a blank slate for a potential buyer to put their stamp on.
Think about your target buyer. If your property is more appealing to a young single person and you have children, consider storing child-care items out of view.
Your property should be easy to navigate and open. This means reducing furniture and fixtures that are contributing to clutter and making your rooms cramped.
Colour and lighting
Natural light is your best friend, so you want to maximise how much sunlight can enter your property. Take photos and book viewings during prime daylight hours, which is usually around midday.
For colour and artificial lighting, consider who your property would appeal to. For example, if your property would appeal to a fast-paced young businessperson, a colder palette may be suitable, with white LED lighting, metallic fixtures, and white walls.
If your property would appeal more to families, consider a warmer palette with softer more yellow and orange tones. Natural materials such as wood and bamboo for furniture are a plus.
Colour coordination is key, so consider matching furniture where appropriate, such as matching bedside tables with bedframes.
Staging
Openness and simplicity are what you should aim for when staging your property for a showcase.
While you will likely have your rooms laid out how you use the space, you once again need to think about what your potential buyer is looking for.
You want your property to be easy to navigate. Make sure entrances and exits are clear and paths between them are open, and furniture in positions where people won't have to walk in front of those using them.
Try and keep furniture against walls to maximise the central space of each room. Don't be afraid to try different arrangements to find the best layout for your potential buyer.
You could even go the extra mile and temporarily repurpose spaces. For example, a child's bedroom could be changed into a colourful study for photographs. Or at viewings, you can show the potential buyer how different rooms can be repurposed.
Plants are always a plus as they can add life and texture to your property.
---
Are you curious how much your property is worth? Find out now with our free online property valuations.
Find out how much your property is worth now
(*) Focal Agent 2020