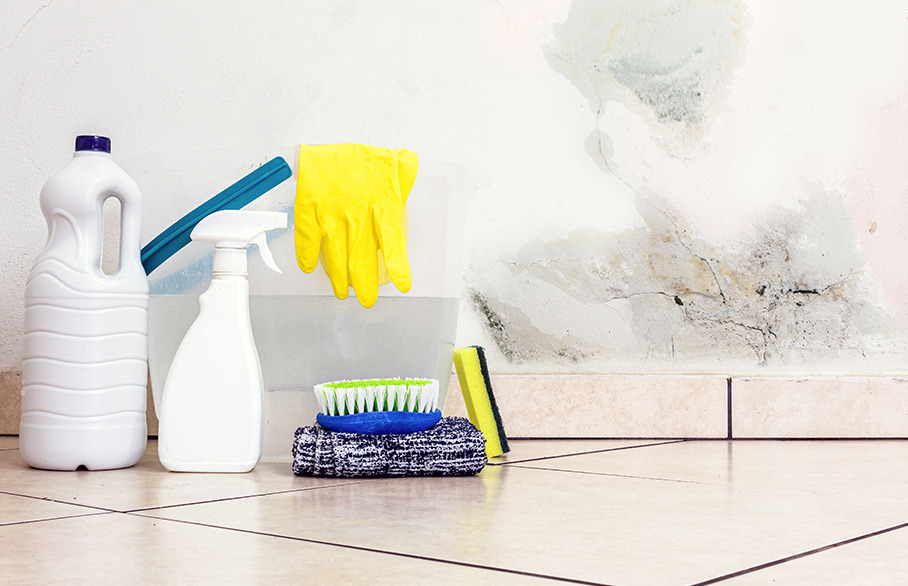 There are three main types and causes of damp:
Rising damp. This is when moisture seeps up into the property from the ground, and it shows up as 'tide marks' on the lower part of the walls on the ground floor.
Penetrating damp. This appears as damp patches on the walls or ceiling and can affect any part of the property. It's a sign that either water is getting in from the outside – often because of cracked brickwork – or there's an internal leak.
Condensation. This forms when excess moisture in the air can't escape because of inadequate ventilation. The moisture settles on cooler surfaces and if this water is not wiped away, mould will start to form in small black/grey dots.
If damp and condensation isn't tackled, a more serious mould problem can develop and spread. As well as causing damage to the property and its contents, mould spores can pose a significant threat to the health of your tenant if inhaled, including breathing problems, lung infections and even potentially death.
While all three types of damp can affect a rented property, one of the most common problems we come across is mould caused by condensation – and it's all-too often a source of dispute between landlords and tenants.
A grey area…
Many landlords may feel that because surface mould is caused by their tenants not ventilating properly and failing to take care of the property, they should be responsible for fixing the issue. And tenants do have a duty to take care of their rented home. Clause 4.1 in Section C of the government's model tenancy agreement states:
The Tenant must take reasonable care of the Property, any items listed in the inventory and the Common Parts (if any). This includes (but is not limited to):
taking reasonable steps to keep the Property adequately ventilated and heated so as to prevent damage from condensation;
However, the landlord is legally responsible for maintaining a rental property in a good and safe condition for their tenants and free from hazards (as per the Housing Act 2004 and Homes (Fitness for Human Habitation) Act 2018). And tenants usually see any kind of mould as a problem with the property itself, so believe it's down to the landlord to get rid of it.
Basically, it's this lack of clarity over what looks like a shared responsibility that's been causing confusion and is at the root of disputes. Nevertheless, at Your Move, we have always advised our landlords that we'll instruct contractors to resolve any issues like this as soon as possible, to ensure they meet their obligations and stay on the right side of the law.
New government guidance that clarifies the issue
In September, the Department for Levelling Up, Housing and Communities (DLUHC) finally published guidance that makes it clear landlords are responsible for resolving damp and mould problems, and tenants should not be blamed.
This new guidance states: "landlords must treat cases of damp and mould with the utmost seriousness and act promptly to protect their tenants' health…..Damp and mould in the home are not the result of 'lifestyle choices', and it is the responsibility of landlords to identify and address the underlying causes of the problem, such as structural issues or inadequate ventilation."
How to prevent damp and mould
At Your Move, we do three key things to help avoid condensation and surface mould becoming a problem in the properties we look after for our landlords:
We advise our landlords to install windows or extractor fans in rooms where excess moisture is generated – such as the kitchen and bathroom – and decorate these rooms with specialist anti-mould paint.
We remind tenants at check in and during periodical inspections about the importance of ventilating and heating properly, and wiping away any condensation that does form.
During periodical inspections, we specifically check areas where surface mould tends to appear:
On window sills
On walls behind furniture
In the corners of bathrooms and on the ceiling - especially above showers and baths
In any room used for drying laundry
Fixing the problem
If surface mould is found, we have a contractor clean and treat the area with anti-mould products and check the property to make sure there isn't a more serious problem.
If the problem is rising damp, you'll need to consult a damp specialist and the property may need a new damp course. For penetrating damp issues, instruct an experienced builder and/or roofing contractor to identify the source of the damp and make the necessary repairs.
As long as properties are let in good condition and they're periodically inspected and well maintained throughout the tenancy, there should be very little chance of damp becoming an issue.
However, if you think your property might be suffering from damp and you'd like some advice, just get in touch with your nearest Your Move branch and speak to one of the team.