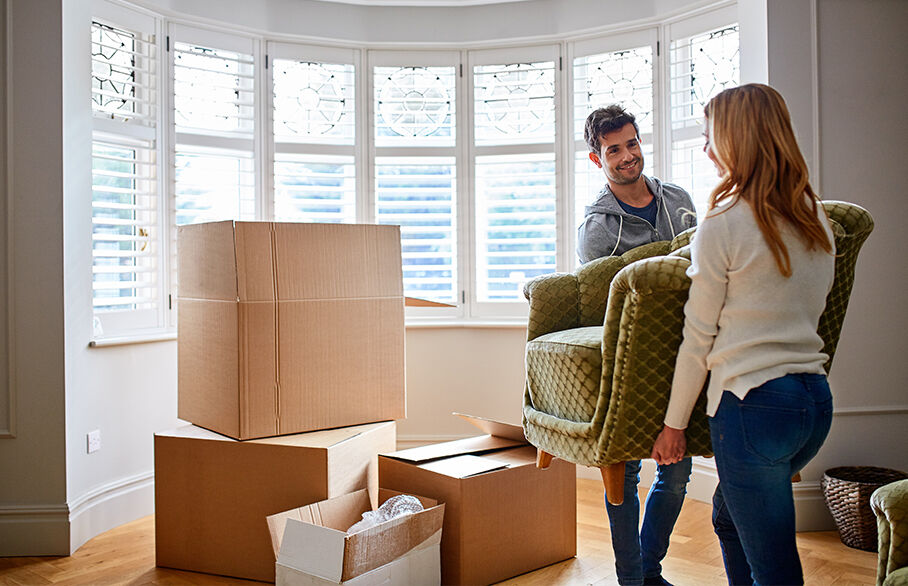 Applying for a rental property is a big decision, and securing the property you want to call home is always ideal. However, in the last four years only, applications for rental properties have more than trebled in the UK.
A would-be tenant needs to be aware of the competition they will face, so it begs the question: How can I secure a rental property before everyone else?
How do you secure a rental property?
Here are 4 tips on how to increase your chances of securing a rental property.
Keep searching and have your options open
When searching the rental market, you must keep your eyes open for new listings and not grow too attached to a single rental property.
In many cases, a rental property listed on Your Move or any other rental lettings websites may already have tenancy applications submitted for them.
A hopeful tenant shouldn't set their sights on a single property and should rather diversify and apply to a larger volume of rental properties.
Even if you are unsure about a rental property, still apply as a larger volume of applications will increase your chances of hearing back.
At the least, you may be offered a viewing which will give you a chance to inspect the property in person before committing.
It would be advisable to set up notifications or alerts for when new lettings in your desired area are listed. Login to your or register a MyMove account to keep updated with all aspects of the moving process.
Have your paperwork ready
Due to the volume of applications, being first in line has its perks. It could mean being the first application a busy landlord or letting agent may come across, and if your paperwork is in check you will appear as a professional candidate.
Being prepared also means that when a new listing goes out you can apply swiftly and increase your chances of appearing at the top of the list.
You will likely require a reference from your previous or current landlord and your employer. Some landlords or letting agents may also require a reference from your bank as proof of funds.
It would be worthwhile informing them in advance and even better if you can obtain a writing reference then.
This written reference from your landlord and employer can be re-used for future applications for rental properties.
In some cases, the landlord or letting agent may prefer to contact your references themselves. Therefore, when obtaining a written reference from your previous or current landlord and employer ask if they are comfortable with you passing on their contact details.
You will also need a government-verified ID such as a driver's licence or a passport, as well as a previous utility bill to prove your current address.
Keep in mind that these documents are required for each individual tenant, so make sure you inform your potential co-tenants to prepare their own paperwork.
Get your money right
Having the funds for the holding deposit at the least always appears well to a landlord or a letting agent. The holding deposit secures the rental property while the landlord or letting agent checks your references.
The holding deposit is usually one week's rent. Putting the holding deposit down secures the rental property and prevents the landlord or letting agent from letting the property to any other potential tenants.
Once your references have been checked by the landlord or letting agent, the next expense will be the full deposit and usually the first month's rent upfront.
You will receive your deposit back at the end of your tenancy, however, any damage to the rental property inflicted during your tenancy will be paid for and deducted from your deposit.
If your application is successful, you should make sure to conduct an inventory check when your tenancy starts to help protect your deposit.
Five weeks' rent is the maximum amount a deposit can for most properties be under the Tenant Fees Act 2019.
The only exception is when the annual rent is above £50,000, in which the maximum amount a deposit can be is six weeks' rent.
Having your finances in check means you can act professionally and pay the upfront fees immediately, making a good impression.
Show genuine interest | How to impress a landlord
Ultimately it is the landlord's or the letting agent's decision as to who the rental property will be let. Therefore, you should take every opportunity to show eagerness and genuine enthusiasm for the property.
Ask questions and lead conversations to build up a rapport with the landlord or letting agent and demonstrate yourself as an eager-to-please tenant.
Landlords and letting agents are usually looking for a competent tenant that can pay their rent on time and will be able to manage renting a property.
Try and keep relaxed and be yourself but make sure to remain present, eager to ask questions, and just as interested in hearing the answer.
Speak in a well-mannered form when talking via phone and dress professionally for in-person meetings. First impressions matter and appearing put-together and prepared will suggest to the landlord or letting agent that you will be an ideal tenant.
Despite the rising amount of rental property enquiries, it's important you remain motivated and don't let yourself get disheartened if a property you were eager to rent comes off the market.
Following these tips should mean you are prepared for your next application and can keep your search for a rental property alive. Find your next rental home with Your Move.